It's anthropologically unjust.


Check out Badly Drawn Boy's latest (along with video) "Nothing's Gonna Change Your Mind" here. I have to say I'm pretty undecided on this one. For some reason the whole thing doesn't seem to all mesh together musically and it seems quite rambling and uncertain tune-wise.


Get some live Apples In Stereo tracks and news on the upcoming February 2007 release of their new album New Magnetic Wonder over at you ain't no picasso.


Jarvis Cocker's "Running the World" has been available online for weeks but now you can also check out the accompanying video clip here all karaoke style with an intro from Jarvis himself. "Smash the system" indeed.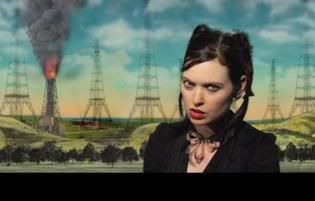 If you like Dresden Dolls (with just a slight infusion of Tool, perhaps?) check out Two Ton Boa's "Cash Machine" on Kill Rock Stars. Lead singer Sherry Fraser is in fact the Sherry Fraser of Marcy Playground fame, in fact Fraser co-wrote some of the songs on the Marcy Playground debut album and "Comin' Up From Behind" is a Two Ton Boa tune that Marcy Playground covered for the soundtrack for Cruel Intentions.

Two Ton Boa- Comin' Up From Behind

Two Ton Boa- Cash Machine

Two Ton Boa official website