I believe that it's called al fresco...
Hoo boy- did you see the VMAs last night on MTV? Yeah, neither did I- but I heard that Jack Black was acting all crazy and stuff and there was some serious lip-synching goin' on. Wait, that might've been last year. Now that's good times.






Can't wait to see the documentary "The U.S. vs. John Lennon." What a fantastic story- albeit one that was quite the ongoing pain in the ass for John and Yoko. There's previously unseen footage of John that Yoko allowed to be used, too. And how can you beat lines like "Lennon represented life and Mr. Nixon and Mr. Bush represent death?" Apparently it's "coming soon..."


Some really great live musical goodness from the Streets over at work for it. Dig that stuff, I still need to see Mikee Skinner and the guys in concert- sounds like a fantastic show.


You can read a pretty good track by track rundown of the latest Radiohead tracks at Stylus Magazine. And I totally agree on "4 Minute Warning" being one of the best of them... Same goes with "Say what you will about Radiohead's reach exceeding its grasp, but it's almost impossible to imagine such naked terror ever being conveyed by Coldplay, Bloc Party, or virtually any other modern British band. "


The Lemonheads are not only planning on releasing a new album, they're also set to tour in November and December. The last time I saw Evan Dando at the Double Door in Chicago it was a solo date, now the rest of the band are joining him- fantastic. Here's the rest of the dates:

Santa Ana Galaxy Theatre (November 18)
Solana Beach Belly Up Tavern (19)
Los Angeles The Troubadour (21/22)
San Francisco The Independent (24/25)
Portland Doug Fir Lounge (27)
Seattle Crocodile Café (28)
Boise The Big Easy Concert Hall (30)
Salt Lake City The Depot (December 1)
Denver Bluebird Theatre (2)
Omaha Sokol Underground (4)
Minneapolis The 400 Bar (5)
Chicago Double Door (7/8)
Cleveland Grog Shop (9)
Detroit Magic Stick (10)
Toronto Lee's Palace (12)
Philadelphia North Star Bar (13)
Washington Black Cat (14)
New York Irving Plaza (15)
Boston Avalon Ballroom (16)


Of course she's now pretty well-known (especially in her native UK and to bloggers) but that's still no reason for me not to mention how much I'm stuck on Lily Allen's latest single "LDN." Such a great little pop tune with a melody that worms its way into your brain and stays there. The little record store intro in the video kinda cracked me up, too (although it seems the broken beats reference would be better made with a tune like "Knock Em Out." Posting Lily Allen- how gauche at this point!

Lily Allen- LDN

By the way, does anyone else notice the similarity between the intro of Lily's "Littlest Things" and Radiohead's "Karma Police?"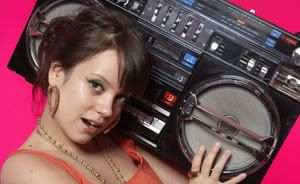 As a random side note, if you don't already dig on CAN you should... just 'cause I said so. Check it:

Can- Mushroom